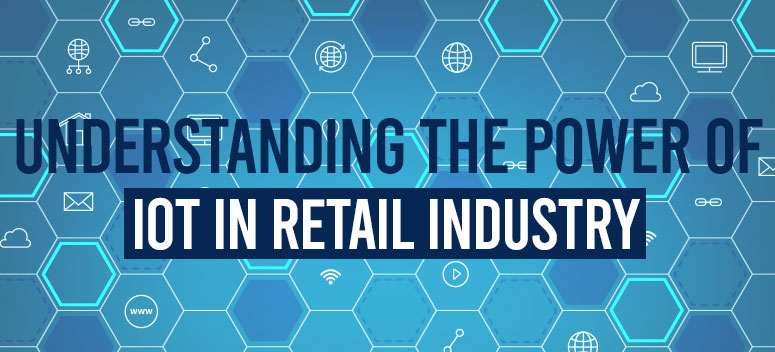 Internet of Things technology is used to improve customer experience and change the face of the Retails Industry. The Internet of Things is dedicatedly being used this day to transform the retail industry eliminating the choice trade-off and redefining sources of competitive advantage.
Grand retail business is also expecting a good return after using IoT.
IoT is the abbreviated form of "Internet of Things"
In simple words, the Internet of things is A network of Internet-connected objects which is able to accumulate and exchange data. 
These are basically things that sense and gather data and send it to the internet.
Example: There are certain objects that can fall into the sphere of Internet of Things like cars,electronic appliances,household lights,connected security systems,alarm clocks, speakers and there are more to add.
Since the last decade, even great changes have been observed and seen in the retail industry due to the advantageous use of the "Internet of Things". Starting from vendors all over the world to the rise of e-commerce, retailers have found out how to make users buy a product.
So, Understanding the Power of IoT in the Retail Industry is a crucial key to keep in mind.
IoT in retails is making a major transformation. IoT has increased the level of understanding and co-operation between retailers and partners to deliver quality products maintaining all other needed conditions.
There are a few aspects you should look up to, in order to

Understand the Power of IoT in Retail Industry

Data suggests if this is how IoT devices and Industrial Internet boost themselves up in the field of Retails, they could add more than $14 Trillion to the World economy. It can be brought to both residential and commercial use.

Smart Store Experience  – This is to know and analyze mall traffic or the way people navigate through the stores. Few persons monitoring the traffic all day is not going to work anymore, because IoT has great application and digital tools to provide precise and detailed information. Earlier retailers had to go through costly surveys in order to understand how store associate is performing and whether clients are happy with the way they are getting served by the associates. 

Now when we have access to efficient applications of IoT, it can be used to check video foot monitoring to see how much time a customer linger around a product and where a particular time is spending most of their time. 

Their shopping behavior can be analyzed and in real-time associates can be directed to help the customer. This can entirely change the in-store customer experience in the future. This data can also be used for digital marketing purposes.

Supply Chain & Inventory Management – As supply chain in retails are advancing, they have to keep track of the inventory from the time it leaves the warehouse to the time it gets delivered. Big retailers used GPS frequently check the conditions of their goods at any time within the supply chain and also. 

RFID ( radio frequency energy transmitted from antennas) can be used to improve the accuracy of inventory management and supply chain optimization.

Wms warehouse management system could also be useful for employees to track products across the supply chain. If warehouse automation could be regularized, online and in-store shopping demand and supply would change leaving zero-gap in-between. Applications of IoT will enable us to monitor potential sales opportunities in real-time and track missed in-store sales. 

Equipment Maintenance – An application of IoT is focussed to manage energy, predicting equipment failure or detecting issues. Most retailers all over the world have one equipment in common and that is refrigeration and there are other complex equipment in use that needs proper maintenance. These can be installed with sensors so that it can predict maintenance issues and monitor the temperature to make sure food is safe.
IoT enhancing the future of Retails industry 
Ther are other applications of IoT being developed on the base of future need. Big retailers have tried many methods to establish and have spent millions on marketing and surveys.
But implementing IoT with proper applications could really boost up the retail forum globally.
Smart shelves concept – The main concern of the customer is to track the missing product and if items are out of stock or not. Well, smart shelves consist of weight sensors and use RFID readers to scan the item on both shelves. It will intimate the customer about low stock and misplacement of items to other shelves. It also will help retailers to catch in-store theft.
Implementing Digital Signature – In the modern digital world, digital signage can play a useful role in personalized and dynamic shopping experiences. It is well used in the marketing industry nowadays.This can reduce the cost of advertising and creating brand awareness. Not only that customer's data can be gathered by using beacons.
Engaging Robots with customers – Many giant retailers around the world is going through Research & Development on In-store Robots. A robot employee can represent and help customers to find the product they need and provide information on them. They can do it all day without taking a break and increase efficiency. Robots also can fetch misplaced products or products which are running out of stock and intimate the retailer. 
The advancement of IoT in Retail Industry can get exceptional transformation. IoT can be used tactfully to create campaigns based on how customers' shopping behavior and shopping experience was. This can indeed lower operational and marketing costs.
Ending Note : 
I believe discussing the power of IoT IN the retail industry has enlightened you.
IoT can help you think out of the box and innovate things. You should know the technology capabilities needed for IoT and its applications to rise among the competitors.
With several applications in use and yet to come, retailers can achieve outstanding results and generate revenue better than before.