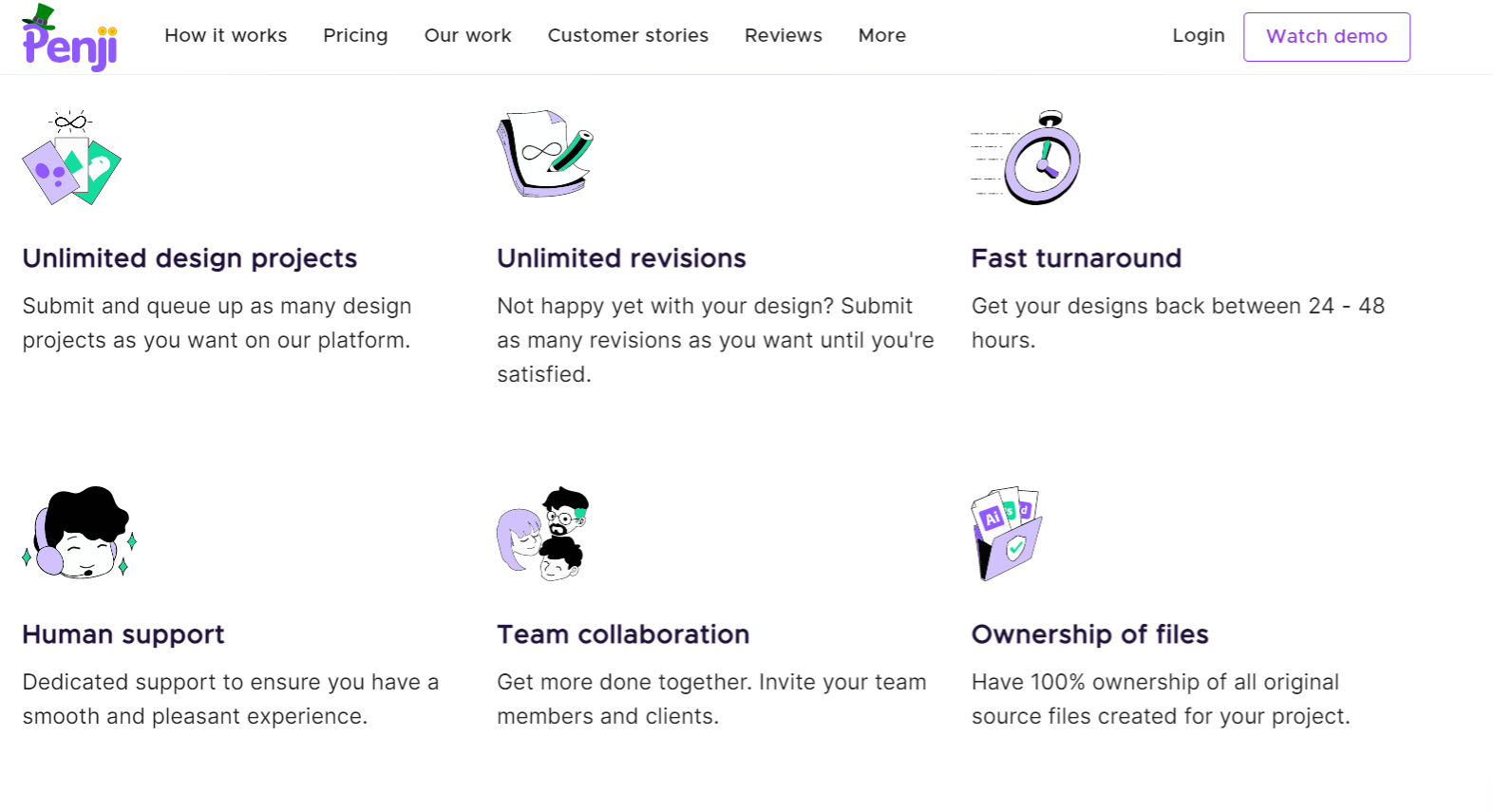 If you're familiar with the graphic design industry or have used their services, you probably know how costly they can be. Not everyone might be comfortable with spending that much for the purpose of getting a logo and such tasks. However, companies like Penji have come up nowadays to help people with their design requirements at a comparably pocket-friendly cost. 
However, that's not all, there is more to know if you're considering hiring their services. You might want some more information in order to make a decision. Here, you'll find all that you need to know and what Penji offers you.
Who is Penji?
Founded fairly recently in 2017 Penji has by now become one of the biggest names in the graphics design industry. Based in the USA, they also specialize in marketing, providing software as a service, and branding as well. If you have any graphic design project that you assign to them, they generally complete their project within a maximum of 48 hours and a minimum of 24 hours.  
How do they offer their Services?
Penji offers its services on a subscription basis. Once you subscribe, there are no limits to the number of projects that you seek from them. That's why they call it an unlimited graphic design service. The first thing you have to do is sign up at their website, and there's no app as off now. After that, to submit your project, you'll have to fill up a form that will ask for various information such as the level of customization you want, design level, etc. 
After you're done, the project will automatically be assigned to a designer and finished within a short time. You'll get a draft of the design first and you can ask them to make any changes that you want. 
In case you're wondering, you can have it revised as long as you're satisfied with the work. However, you might not need to refurbish the work, owing to the high quality of designs. Keep checking the dashboard for any notification, about your project being completed. Once you're satisfied with the work, simply download it. 
What Subscription Plans do they offer? 
Penji offers its services in three different monthly subscription plans. Each of these plans is made in a way to satisfy the requirements of different types of customers. The lowest-priced plan, called Pro, is available at $399. This is significantly lower than what some freelance designers would have charged you for a month's value of graphic designs. This plan includes unlimited graphic design services and unlimited brand design addition. This plan can be availed by up to two users. 
After the Pro, there's the Team subscription plan available at $499. This one's available for up to 5 users. In addition to all that's included in the previous plan, this one also includes design for the website and app. You can avail customization in the illustration which is not available in the Pro plan. Lastly, this plan also includes an infographic design service. 
The third and the highest priced subscription plan is the Agency, which you can get at $899. The customers who have taken this subscription are naturally given the most priority. Apart from all that's included in the previous plans, you also get the service of not one but two designers. This means your projects would be completed at twice the speed. Moreover, it is available for up to 10 users.
Do they offer a Refund?
Before you sign up for their services, you might also want to make sure that you'll get your money back, if you're not satisfied with them. With Penji, you don't have to worry about that. Just make sure to cancel their service within 15 days of starting it, in case you want to do so. Only then will you be refunded the full amount that you paid them. Other than that, you can cancel your Penji subscription just any time you want. But, their alluring designs eliminate such possibilities.
Reasons to Subscribe to their Services
After considering everything, you might still need some help as to whether you should go ahead with their services or not. 
To help you with that, here are some of the main reasons why you must give them a try:
They are very Helpful and Friendly
If the price is the biggest thing that attracts you, then there's also something else you must know. Penji has very friendly customer service and will do their best to help you out. This is quite a significant reason to give them a try. Without this, nobody would have been willing to go much far with them. 
Great for Low Budget Customers
If you're an entrepreneur, you probably would have a comparably low budget than other businesses. That's where Penji will come to your aid. You definitely should give them a chance for getting superb designs at pocket-friendly prices. 
No matter if the price is lower, you'd still want no compromise with the quality of design in any case. With Penji, you can be completely assured that you'll always get original and high-quality designs. 
In some cases, you might want to cancel the subscription temporarily to renew it later on or want to stop their services altogether. Probably very few others will allow you to do that as easily as Penji would. You can opt-out or cancel the subscription, anytime you want. Moreover, if it's within 15 days of the new subscription, you'll even get all of the money back. 
Things that they need to Improve
Even though they have so many great things to offer, you might want them to make their impeccable services more accessible so that they can work in your favor. 
Here are the facts that you need to go through:
You can contact them only through their website
This would probably be unfavorable to many people. Even though their customer service is great, you can't reach them through phone calls. But, you can mail them. 
It's viable only if you have high needs for design
It might have become clear to you by now that the prices would suit only those who need multiple designs created in a month. So, if you're someone who doesn't require such services much often, you need to think otherwise.
Suppose you need only one of the services of the Team plan. In that case, you'd have to get the whole plan just for it. You can't choose the specific services you want. But, overall, the entire plan would justify the projects and results.
Final Verdict…. 
In conclusion, let's have a look at Penji more closely. After considering all the aspects, it can be said that Penji is overall worth your money. You might not be able to get benefit from what they offer in some cases, but they provide quality designs, copyright access, and much more, under one roof, in all their services.