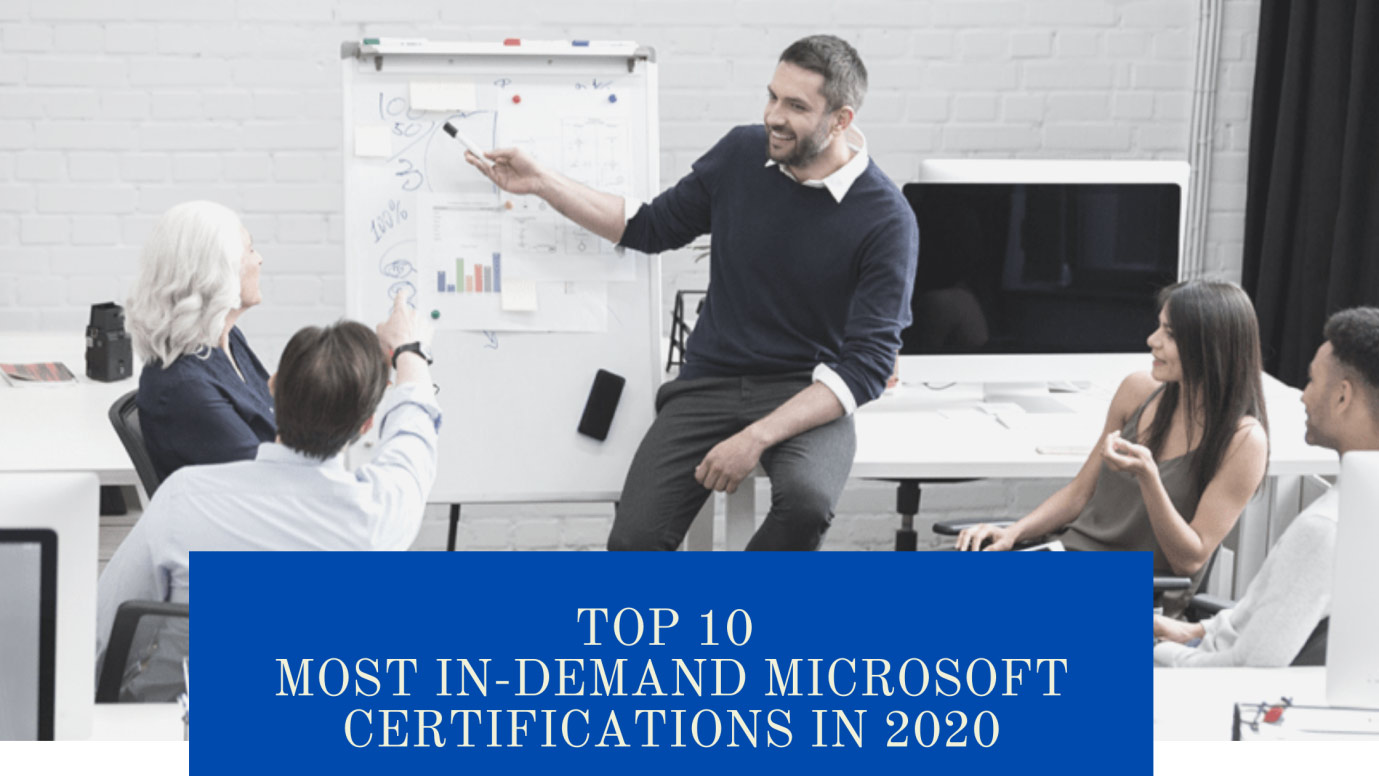 In recent years, certifications are a great investment, and core credential and majorly there is one technical area that demands the worth in the job market—cloud computing. IT professionals with these credentials are in high demand and command the great paychecks in the industry. IT certifications such as Microsoft Certifications are a credential of your expertise that supports professionals to earn higher salaries and excel in their careers. Some companies, such as the DOD (Department of Defence), even necessitate a set bundle of certifications from applicants to even get recruited.
The current study reveals that Microsoft certifications are the fourth most popular certification course in North America. IT professionals who are MS-certified are most likely to be cross-certified in Citrix, Cisco, ITIL, CompTIA, and cybersecurity. Even, the majority of aspiring applicants also plan to cross-certify in Amazon Web Service-Cloud this year.
Top job functions for Microsoft-certified professionals:
IT Security/ Cybersecurity– 19 percent
Infrastructure, Telecommunications, and Networking– 18 percent
IT Architecture & Design – 13 percent
IT Support & Service Desk– 13 percent
Executive – 6 percent
Statistics Overview- Key insights on IT certifications in 2020
Forbes stated- cloud computing and virtualization certifications by Microsoft pay an average salary of USD 136,659 in this year from an average salary of USD 127,494 in 2019.
IT Salary report 2020 from Robert Half (California's global human resource consulting firm), mentioned that candidates having popular certifications can receive around 10 % extra than their colleagues. Whether you wish to stand out in the crowd and enhance your resume a certification can help you boost your career and your salary.
2020 Tech Salary Study and reports (from careers firm Dice) Pegs Cloud Engineer average salary at $128,347, cloud engineer considered as number three on the full list of average tech salaries by profession.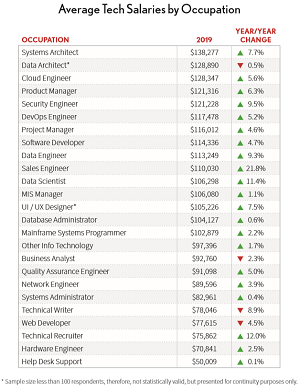 [Image source- Dice (Average Tech Salaries by profession]
Put simply, 2020's highest-paying IT certifications show a great emphasis. There are various areas in specializations particularly on topics, like cloud computing, networking, cybersecurity, and project management which are in very high demand. Artificial Intelligence, Cloud, Machine Learning, as well as project management dominate the job market spots. It will persistently dominate in 2020 as well.
Top 10 Microsoft Certifications for 2020
An accredited certification certainly makes your expertise stand out in a crowd. This not only gives the impression of how well-versed with cutting-edge technology but also showcase your dedication to your career. 80% of professionals in the IT field say that certifications are helpful and constructive for their careers; the challenge is choosing the right one. With this in mind, in this blog, let's look at the top 10 most in-demand and valuable Microsoft certifications courses 2020 available with their humongous salaries.
Microsoft Certified: Azure Fundamentals
Microsoft Certified: Azure Administrator Associate
MCSE: Data Management and Analytics Certification
Microsoft Certified: Azure Solutions Architect Expert Certification
5. MCSA: Windows Server 2012 Certification
MCSA: Windows Server 2016 Certification
MCSE: Core Infrastructure Certification
Microsoft 365 Certified: Security Administrator Associate Certification
Microsoft 365 Certified: Fundamentals Certification
MCSA: Microsoft Dynamics 365 for Operations Certification
Certifications can equip professionals with both theoretical as well as practical knowledge to become an IT expert. According to the Robert Half Salary Data and Guide, even employers prefer to appoint certified IT professionals, having real-world experience and qualifications to go along with them. Those who put extra effort to get these credentials can expect higher packages and experience a promising future on the career ladder.
Core Reasons to Get Microsoft Certified
There is plethora of reasons to get MS certifications. Clubbed here three major reasons:
Gain Credibility to the Portfolio
Obtaining any Microsoft certification can bring credibility to your IT resume and approval that you have become an expert in your field. You have just the perfect expertise and skills required to succeed.
Stand out in a competitive market
It also gives you an added benefit during the IT recruitment process and helps you increase your Marketability. Overall, these certifications give us practical experience and hands-on projects that act as testimony that you can perform any given task or assignment in your field.
Make You A Great Asset to the Company
One of the significant reasons to get Microsoft certified is that it helps you stand out from the competition. You can keep yourself current and a knowledge base that will make you an important asset to your employer.
Wrapping Up!
Cloud technology is the future for companies in several sectors of business. As per Oracle's Cloud projections, "around eighty percent of all company workloads will reallocate to the cloud by the year 2025". So, preparing for future trends and getting certifications in the cloud can offer you reasonable benefits.
While it can be appealing to go for the Microsoft certifications with high paychecks; but you need to concentrate on the accreditations that further accelerate your career goals. You can start with the fundamentals training courses and then move to the higher-level certifications in the learning path. By getting a highly valued certification that fits in with your career prospects, you'll be able to make massive progress in your career!