Video content has gained a first place among other types of visual content consumed by Internet users. Marketers extensively use video as a tool for advertising their brands, promoting the launch of a new product, and just attracting new leads. The wave of video content that has flooded our social media within the past couple of years is a clear sign of the live interest people have in it. 
However, the production of quality video content is impossible without editing the footage. Trimming, cutting, and composing the frames allows you to arrange them the way you see this, giving way to creativity and artistic taste. Practically everyone posts videos only after pushing it through some video editor. Speaking about the latter, we should mention that  it's crucial to find the software you'll feel comfortable working in. Aside from this, you should take care of the quality hardware to get the best quality footage possible. One of the common issues here is the sound quality. These top-picks in microphones for video recording can help you resolve this problem and get exactly what you want in a video.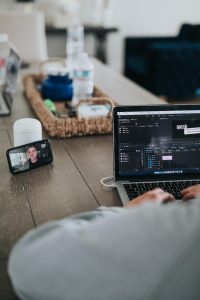 Source: MacBook pro on brown leather couch photo – Free Video Call Image on Unsplash
Choosing the Best Product for Video Editing
Are you looking for video editing software? Do you have any experience in video editing? What kind of software do you need? If you have answers to the last question, then this top-list of the seven best video editors can speed up your search. If not, this compilation will still make things clearer for you.
Some video editing software is available for desktops only, while others may be used both on your PC/Mac and on your smartphone. Some software requires a download, while others can be utilized online. You should decide which one is better for you. Your IoT device connectivity may play a role in your choice because its poor quality can affect your work in online video editing programs. Whichever to choose is up to you.
Any of the listed products would do good for editing amateur and semi-professional videos. There are also some offering professional-grade editing features. By the way, if you are only beginning your way in vlogging and are still not sure what niche to take, use these video blogging ideas for inspiration.
Magisto Smart Video Editor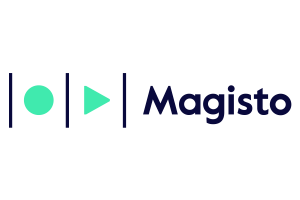 Source: MagistoLogo – Magisto – Wikipedia
Magisto is video editing software, which is powered by artificial intelligence. The latter allows editing videos within some minutes and sharing them to Instagram, YouTube, or Facebook instantly. Magisto requires no download if you plan to use it on your PC or Mac. The service offers three paid packages of services grading in price and the collection of features. For Android and iOS users, there is a mobile app available. 
Features:
hundreds of customizable templates;

access to iStock images;

commercially licensed audio library;

customizable colors and fonts;

Full-HD format support;

cloud storage available.
Drawbacks:
premium package contains a limited number of features;

the maximum duration of the video is 10 minutes;

won't fit for professional-grade video editing.
PowerDirector 365 by Cyberlink
Source: PowerDirector logo – PowerDirector – Wikipedia
PowerDirector by Cyberlink is another video editing software powered by AI. It offers several packages to choose from. The selection of features varies depending on which one you choose. The software is compatible with macOS and Windows.  PowerDirector can be used on mobile devices as well. 
Features:
supports all latest formats, including 4K;

over 3,000 templates and effects for video editing;

more than 2.4 million stock images, audios, and videos available;

green screen;

motion tracking;

advanced color match.
Drawbacks:
it might be too difficult for a beginner editor.
Filmmaker Pro
Filmmaker Pro is video software that is always with you. This is a mobile application with lots of advanced video editing tools. Both iOS and Android users can use it at no fee. This app is perfect for beginners and pros: due to the user-friendly interface and various video editing features, everyone will find their way through Filmmaker Pro. 
Features:
video speed controller;

over 50 text animation presets;

50+ video filters and 50+ transitions;

video blending modes;

allows exporting 1080 & 4K video without quality loss;

multi-timeline video editor;

green screen.
Drawbacks:
multitrack editing is not available;

some features are available on certain devices only.
VideoStudio Ultimate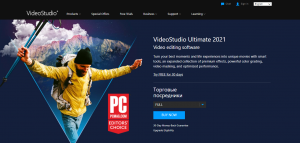 VideoStudio Ultimate is a new product by Corel featuring a lot of advanced video editing tools to make your clips look professional. This is downloadable software for desktop users. It stands out among other offers due to the smart tools it offers. Ultimate is an upgraded version of VideoStudio products, which has some tools unavailable in the previous versions. You can check out most of the features during a 30-day free trial.
Features:
more than 2,000 video effects and filters;

multi-camera editing (up to 6 cameras);

360-degree video editing;

color grading;

face-tracking AR stickers;

enhanced customize motion with Auto Motion Blur;

NewBlueFX and proDAD premium ultimate effects collection.
Drawbacks:
the features in the trial version are limited.
Filmora by Wondershare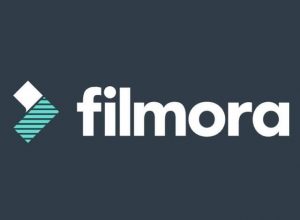 Source: Logo91245 – Filmora – Wikidata
If you are looking for a user-friendly interface packed with advanced features, Wondersahre Filmora can be your choice. This software can be used on PCs and mobile devices. iOS and Android users should look for the app called FilmoraGo. This software can be used by people with different levels of skills in video editing.
Features:
intuitive timeline;

4K file format support;

royalty-free music library;

overlays;

motion tracking;

color matching;

free trial available;

videos can be exported to TikTok, YouTube, Instagram, Twitter, or Facebook.
Drawbacks:
watermark on videos made in the trial version.
Movavi Video Editor Plus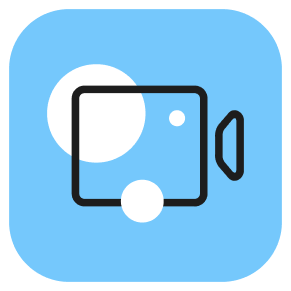 Source: MovaviVideoEditorLogo – Movavi Video Editor — Википедия (wikipedia.org)
Movavi Video Editor Plus is a great choice for newbies and pros. This software is compatible with desktop devices run by Windows and macOS. It's popular due to its simple interface layout and diverse video editing tools. With this program, your videos can become stunning.
Features:
extended selection of filters, titles, and transitions;

green screen;

video stabilization;

picture in picture tool;

voiceover;

built-in media library;

keyframe animation;

4K video format support.
Drawbacks:
Lightworks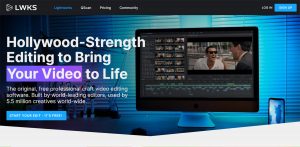 Lightworks is professional-grade video software that will best suit experienced users. It has free and paid versions. The software can be installed on Windows, macOS X computers. Lightworks may be difficult to work with if you are a beginner, but the opportunities you get learning are definitely worth the effort.
Features:
ready-made titles and transitions;

cloud storage access;

powerful timeline;

all formats import/export 720p only (4K export available in paid versions);

stock media library access;

hundreds of video effects.
Drawbacks:
the free version offers a limited selection of features.
Summing Up
Create stunning video clips using one of the listed programs. They all have pros and cons; your task is to find your favorite.