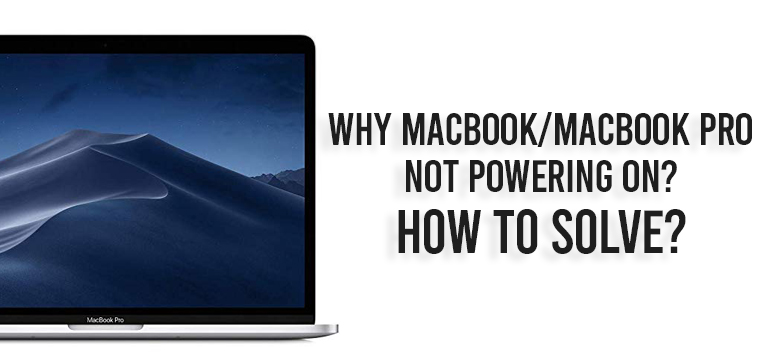 You might have obviously noticed that your MacBook is not responding to the Power buttons. Many have reported this problem, and experts assume macOS could also crash and then stop working.
The first time when you notice that your MacBook isn't responding properly by pressing the power button, do not assume that it has completely stopped working or you have to go through laptop repair.
Before assuming anything on your own, you should have a look at the possible reasons that why is your MacBook pro not powering on.
Why your Macbook and Macbook Pro not powering on?
Whatever the problem is, it's better to first detect it and then slip to the process of solving it. 
1. Check for power-related issues
Start by trying to start your MacBook by clicking on power-button and then check for signs that could help you understand the occurrence of the issue such as these:
Subtle sounds (hard-disk beep sound, fan sound or any other sound)

Check on the Lights (Caps Lock key, Sleep indicator light or backlit keyboard)
If your MacBook isn't showing any signs of power, you at least have to make sure that it is receiving power.
Ensure that your power cable is properly plugged in both Mac and electrical power sources. Also, make sure the power cable is intact with zero damage.

While using Macbook/Macbook Pro, make sure that you are using the right adapter as well as the power cable.

If you are using an external display, check if it is turning on and if it has got any display issues.
2. Perform a Power Cycle
If there is absolutely no sign of life in your MacBook/MacBook Pro, one of the best option would be to run a Power cycle which can push your MacBook to restart after killing the power to it. This step is more likely to revive your MacBook.
For the new version of MacBook and MacBook Pro, you have to detach the power cable and then hold the power button for 10secnds.

And for an older version of the MacBook, disconnect the power cable and then open the battery and keep it like that for at least 10 seconds and then put it back.
Once done, re-establish the power and restart your computer. This tip generally works out, and you definitely can try it out once.
If your MacBook won't turn on, you could take another useful measure.
3. Try Checking the hardware
Check all the factors that is related to the hardware of your MacBook. Make sure the video-out cable is properly connected to both Macbook and the display.
Try disconnecting all the cables and then again attach it to the desired point securely. You also have to see if you have recently changed any hardware like RAM change or hard-disk swap. And make sure any hardware changed you made is right in place now.
You can unplug all cables and peripherals before you try to boot your MacBook.
Now when you have found what's the real issue, you must also know how to come out from this issue. Isn't it?
Let's find out how to solve the problem and then successfully run your PC. Or you can also look for a laptop repair expert in your locality to get life to your Macbook again.
How to solve: Macbook not powering on?
Reset the System Management Controller (Solution 1)
You may need to reset the system management controller(SMC) on your Macbook. This is worth trying once your MacBook wont turn on. The SMC basically takes care of the basic Mac functions form keyboard backlight, to battery management and the activity when you turn on the power button.
For Mac Desktop
Disconnect the power cable and wait for at least 10-15 seconds

Now attach the plug again and wait for another few seconds.

Once done, Restart your P.C
For Macbook Pro & MacBooks with a T2 security chip
Just press and hold the Right Shift Key+ the left Alt and left control key for at least 7 seconds

Press and hold down the power button for 7 seconds while keeping the above-stated keys pressed.

Once it is 7 seconds, release all the key.

Now Restart your Mac.
For Macbook with non-removable batteries
Press and hold the Alt key, the left Shift and the Control key together along with the Power button for at least 10-15 seconds

When it's over, release all the keys 

Restart your computer
Rolling on to an alternative process to accomplish your job without going for laptop repair.
Try to reset your NVRAM or PRAM (Solution 2)
NVRAM is a Non-volatile random access memory. It consists of a special section of memory to store certain settings a Mac could need to access quickly. You can use this step to reset and check if it works out. Precaution is better than cure. Isn't it?
Follow the given steps to reset:
Here, first, click on the power button and then immediately press and hold the Alt Key, Command key, P and R keys.

Hold the keys for around 20 seconds or more, even if your Mac is restarting.

Release all the keys once you hear your Mac makes a start-up sound twice.

Now if you have a T2 chip, then carefully release the keys after the company logo fades away for the second time.
One of these steps would surely solve your issue of your  Macbook not powering on.
Conclusion:
If you still having trouble with powering on your Macbook, then you can connect with the Professionals where they can give you the solution for any kind of laptop repair. So that you will not face any trouble regarding your Laptop or Computer.