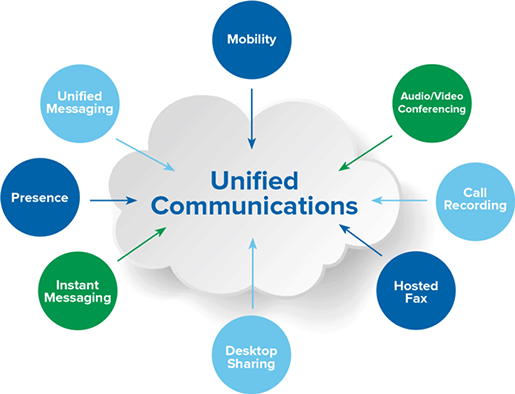 Communication is the backbone of successful businesses. Our world is spurred by digital transformation. The evolution of technology allows using different communication channels, each with its set of advantages.
The use of multiple communication channels can become your company's greatest nightmare. This is where unified communications solutions come into the picture. Here is a guide to help understand what unified communication (UC) is and why you need it as a UC solution for your workplace.
What Is Unified Communications?
Unified communication is all about combining communication channels and options into a single point of access. Unified communications solutions go far beyond simplicity and convenience.
A UC solution collects multiple features like text messaging, voice messaging, fax, voice conferencing, and many more features. These communication solutions keep your devices clutter-free and process streamlined. It also eliminates the need to download multiple apps and keep things on a single platform.
Why Your Business Needs a UC Solution?
You must have read a lot about UC solutions. Here are the operational, financial, and technical advantages of employing it.
You Have a Mobile Workforce
Modern businesses are agile, and employees show a growing preference for mobility as a mode of working. Employing a UC solution can help businesses achieve efficiency improvement along with cost savings.
It can run from a mobile device, which is a better alternative than hard-wired desk phones. Mobile phones also bring availability, accessibility, improved user experience, and allows companies to support BYOD.
You Need a System for an Efficient Remote Workforce
Communication plays a vital role in the efficiency of your remote workforce. With UC solution, your remote workforce can enjoy consistent communication experience like in-office employees.
Your Organization Finds Value in Enhanced Collaboration
Communication is the foundation of collaboration. The demands for better communication across offices and departments can be achieved through a UC solution. It becomes easier for employees to talk with each other and share information.
The employee's communication options are not limited to basic telephony. They can use other communication channels like instant messaging, video conferences, and many more. UC solution also enhances collaboration by supporting features like CRM integration and file sharing.
You Need Improved Call Handling Experience
When talking to a client on a desk phone, you don't need to disconnect the call even if you need to leave for a while. Just transfer the call to the UC mobile client and continue with the conversation on your mobile device.
A UC solution keeps all communication records like call logs, missed calls information, voicemails, and call recording synchronized across all devices. This allows you to pull down communication records of any customer from any authorized device.
You Need to Streamline Contact Management
UC solution offers a single easy accessible phonebook for all your business contacts. It allows employees to see the availability of their colleagues in real-time. It will enable companies to run their business smoothly, and employees can save time by eliminating failed attempts to reach their colleagues.
These are some reasons you need a UC solution for your workplace. Simply put, it is the future of business communications that cannot be ignored.